It rains. The whole day. Time to document the first leg of our journey. Three days ago, on Thursday 16 June, we set off from Fürth (really? Seems like we've been on the road for weeks now), which is actually Langenzenn, where our camper lives when we're not travelling with him. The first day was an endless motorway ordeal. 10 hours from Langenzenn to the north of Hamburg to my brother Tilo. Road works and slow traffic. And a Citroen Jumper is definitely not a racing car. Beyond 100 km/h, the noise inside becomes quite unbearable.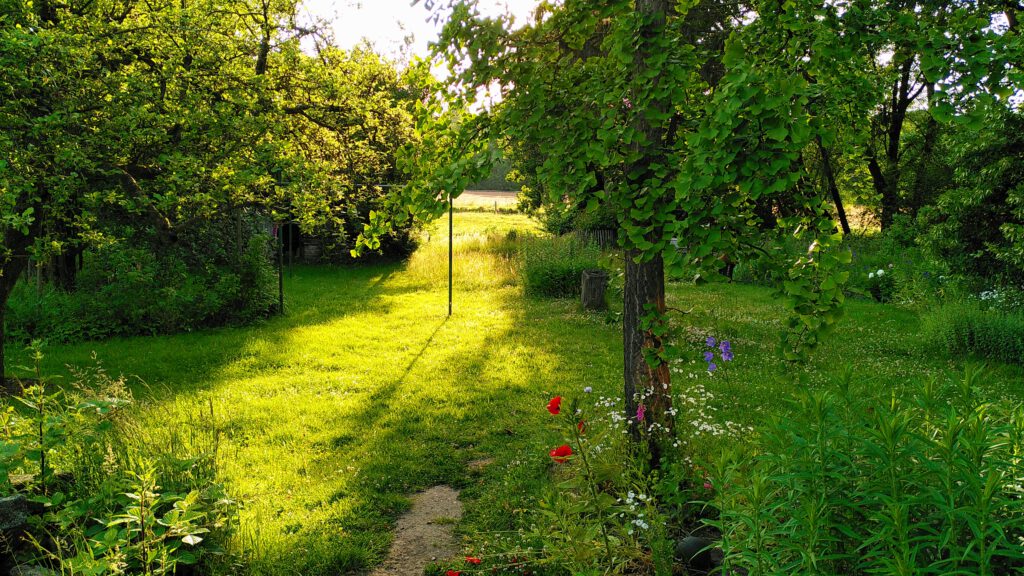 When we finally arrive at 7 p.m., my brother has surprisingly ducked into hospital: the stomach pains that have been plaguing him for days have actually turned out to be appendicitis. He is operated on in the evening – luckily everything goes well, we were quite worried. We are welcomed by my nephew Ole, admire the fantastically beautiful garden (my brother and his family live right on the Duvenstädter Brook on the border to Schleswig Holstein) and have some pizzas delivered. At 10:00 we crawl into our camper, dead tired: the first night in our mobile home. It really starts…
On Friday, we will visit my brother in hospital (after we have done a quick test in a pharmacy – you hardly notice it in everyday life, but Covid is not over yet). He is still a bit shaken up, but the operation went well and with a bit of luck he might be able to go home the next day. I am glad that we are still visiting him. It's another 45 minutes from the hospital to Lübeck. The ferry leaves Travemünde at 22:00 in the evening, we have plenty of time and Lübeck is, after all, a world heritage site and marzipan capital. And a city with somewhat unusual footbridges. We have lunch at the Schiffergesellschaft – THE traditional pub of Lübeck. The interior still looks as impressive as I remembered it from a visit several years ago, but the food is no revelation. Gaby is quite disappointed with her fish soup. Another stroll through Lübeck (they have a Tintoretto hanging in a church – impressive), then we drive on to Travemünde – we want to go to the sea before we leave. The weather has clouded over in the meantime. There is a strange, rather nasty twilight. Everything is glaring grey and somehow unpleasant. We walk up and down Travemünde's beach promenade a little until we've had enough. Then we drive to the Scandinavian quay and queue up for the ferry. At some point we check in and are allowed on board.
The ferry is quite a disappointment. We are used to the big Scandinavian ferries. With a great evening buffet, duty-free shop, cinema, shopping mall and lots of luxury. Like small cruise ships. Our ferry only has a tiny kiosk with schnapps, chocolate and lots of perfume, and it only opens for two hours a day. We have already eaten in the queue in the camper, on the ferry we take a look at the water and then quickly crawl into our cabin – it is already 23:00. The next morning we have a really bad breakfast. Meatballs, porridge, beans, sausages, slices of cheese and cooked ham, no jam, no honey – but moulded ready-made eggs. We are sorely disappointed. The ship sails for Stena Line. We had expected a Swedish buffet with salmon, herring, shrimps, fresh rolls and other great delicacies. One last feast before the culinary deprivations of the North. We spend the day reading, hanging out on deck and taking a nap in the cabin. Another new experience for us: until now, the ferries usually left in the afternoon. Get on board, eat a delicious buffet, watch a bit more and then sleep. The next morning, another delicious buffet and then off the boat. All without stress, but pretty well timed. Now we are on the ferry all day and have nothing to do but stare at the grey Baltic Sea and watch the pigeons. In fact, we see no birds other than three pigeons circling the ferry constantly until we dock in Liepaja. That means dinner, too. Not as terrible as breakfast, but not worth mentioning either.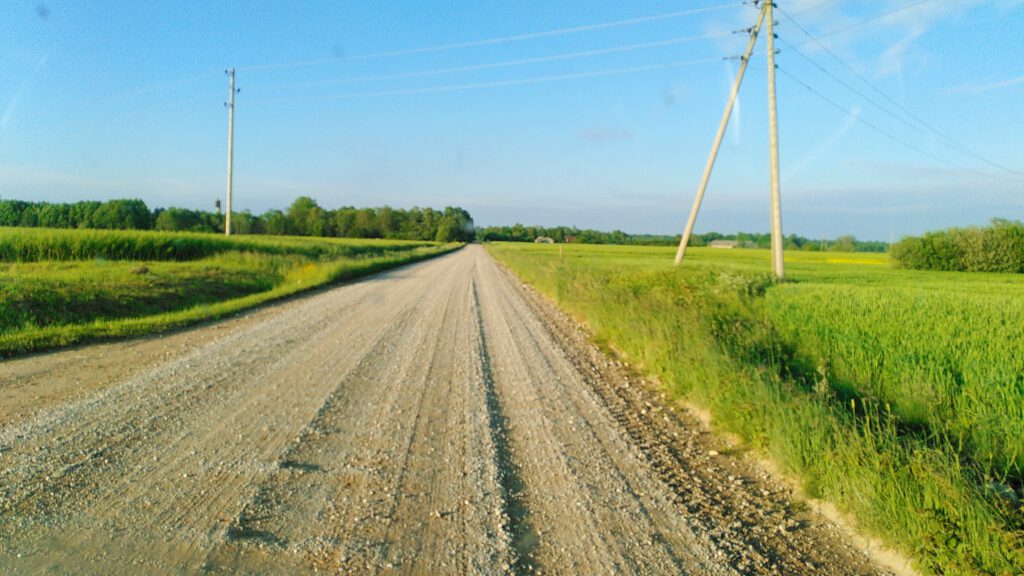 In Liepaja it takes quite a while until we get off the ferry. Then we are in another world: prefabricated buildings and tiny houses, cobbled streets, lots of green. That's more or less how I imagine rural Germany a hundred years ago – without the prefabricated buildings. On the way to the campsite – we chose one via Google Maps and booked it while waiting at the ferry – the sat nav sends us over a gravel road with rather perfidious transverse grooves. Faster than 30 km/h is virtually impossible, even though a few locals come towards us who certainly drive faster than 50 and cause quite a dust cloud. In our camper, at over 20 km/h, cups and plates start a wild tap dance and the whole body groans, grunts and rattles, making us feel quite queasy. Instead of the announced 25 minutes, we need almost an hour. The campsite attendant is already waiting for us – it's his job, after all. First the junior welcomes us, then the father takes over. He has worked in Germany for years and speaks excellent German (Junior speaks good English). Both are incredibly nice and seem to be really happy about us. This year is not going well: the Ukraine war seems to be scaring off many German tourists (we also considered whether we really wanted to travel to the Baltic States, which are, after all, at the top of Putin's "Home to the Reich list") and diesel is now just as expensive here as in Germany.
The Rugumi campsite is beautifully laid out: a large garden directly on the dunes leading to the Baltic Sea beach. The sanitary facilities are simple but clean (outhouse toilets and simple washbasins under the open sky) and in case of doubt we have everything in the camper. We have a hard time choosing the ideal spot for our camper, and finally we park ourselves on the large camper meadow. The sun is just setting (it is 22:30 local time – Latvia is one hour ahead of us) and we go to the beach again, take a few photos and slowly arrive.
Sunday, our first day in Latvia. Rain is forecast. After breakfast we get ready and walk north along the beach towards the cliffs (but they are out of reach). After a quarter of an hour it starts to rain. Gaby's feet are already wet anyway – she got into a dead end and had to flee from the waves through a ditch. We bravely continue, but after half an hour we've had enough and turn back. Back at the camper we are soaking wet despite our high-tech rain gear. It rains all day. We eat, sleep and laze around and give our souls time to catch up with us. They always need something, especially on long stretches of motorway we always lose them. It's 36°C in Fürth today. Rain and 13°C seem like paradise to me.