Ferry to Saaremaa – Muhu – Camping Muharanna – Käkisilma Telkimisala – Panga Pank – RMK-Site – Ferry to Hiiumaa – Sääre Tirp – Kärdla – Randmäe Puhketalu – Lighthouse Tahkuna – Disc Golf
After spending the night at Salacgriva, we leave early and drive to Estonia. We arrive in Virtsu just in time: The car ferry to Saaremaa is being loaded. We drive straight on board and off we go. Driving a ferry is great. You are practically forced to relax. Nothing to do but look at the sea and passing ships, eat hot dogs or waffles and just do nothing. The ferry to Saaremaa only takes 20 minutes, but it's still a wonderful little break.
By the way, the ferry to Saaremaa does not go all the way to Saaremaa, but only to the small, offshore island of Muhu. From there you can reach Saaremaa by bridge. We stop for lunch at Bottengarn, a chic hotel with a restaurant and its own small harbour. We sit in the winter garden, outside the shady places are all taken or reserved and it is much too hot in the sun. Every now and then a breeze blows through the air vents under the glass panes, but it is still very warm. The food is very good, regional and creative. 
After dinner, we go in search of a campsite. We would like to stay a little longer in one place, but of course we have high expectations. Finally, we land at Muharanna Caravan and Camping Saaremaa. A very nice place with a very nice owner and very good reviews on Google and Park4Night. Everything fits and is really great – only the sea is not convincing at all. We walked the whole beach, but no matter where we went into the water, it was only knee-deep. In addition, there is plenty of seaweed and a stony bottom that makes it difficult to wade through the warm, shallow water. We try to survive the heat of the next day at our campsite in the shade of a large poplar tree, take a short bike ride along a historic gravel road and inaugurate our new Scotty camping gas grill. It's a nice, relaxing day but to stay longer we just don't have a place to swim in the heat. Maybe we'll come back in spring when the birds are migrating. The area must be a real bird paradise.
After two nights at "Muharanna Caravan and Camping Saaremaa" we continue to Vilsandi Nature Park, where we do the Käkisilma Telkimisala, a hiking trail that leads through the extremely shallow Baltic Sea over several small islands to the island of Vilsandi, crossing boat channels. The path is officially closed because the boat channel is probably quite deep and the current is too strong. However, you can still take the path at your own risk, which is what we do. A report on this can be found here…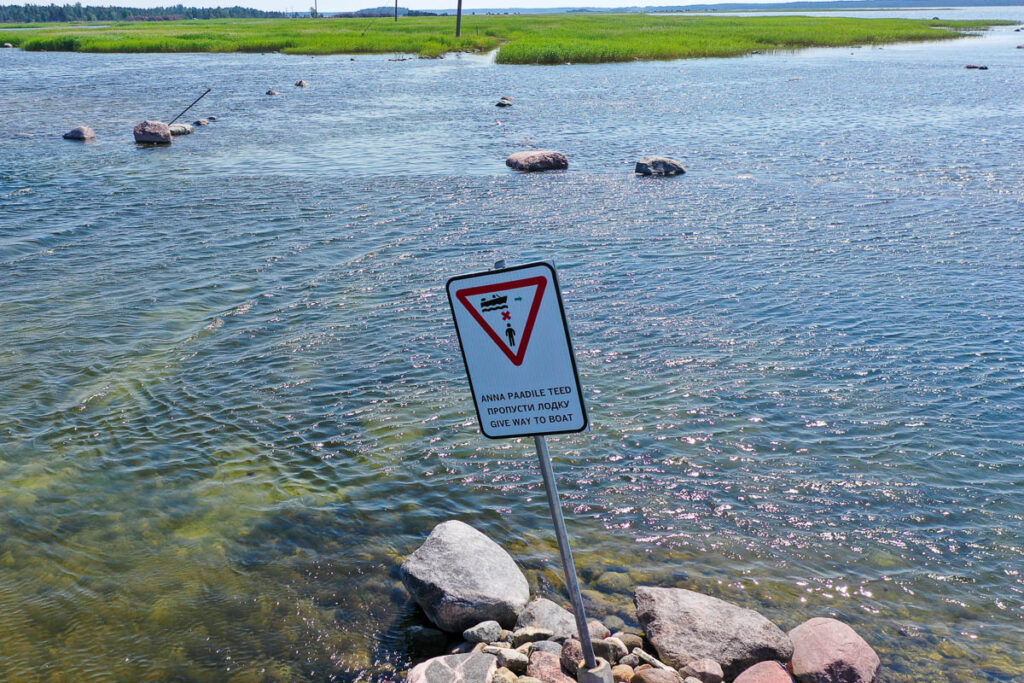 Our next destination is Panga Pank, the Panga cliff. It is a 20-metre-high cliff with a (currently closed) lookout tower. However, such a cliff is spectacular, especially from below, and we can't get down here. Maybe there is a way, but it is much too hot for big excursions. But why do I have a drone? It's up in the air in no time and we have some pretty impressive panoramas of Panga Pank.

Then we want to continue to Hiiumaa, the second largest island in Estonia, north of Saaremaa. The ferry seems to be fully booked (or rather, we don't understand the booking system) and so we decide to spend a night at an RMK site near the ferry dock. RMK sites are official overnight sites of the Estonian Forestry Administration. They usually have a shelter, benches and tables, an outhouse and a fireplace. Most of them are in the forest, of which there is plenty in Estonia. Ours is on the edge of the forest right next to a nice beach. The water is actually deep enough to swim after only 30 or 40 metres without dragging your belly along the ground. We take the opportunity to freshen up a bit. So much for the pleasant part. The nicest pitch is already occupied (by a couple from Fürth) and it's pretty crowded otherwise, too. But above all, the place is swarming with mosquitoes, so we soon crawl into the camper despite the warmth of the evening. Later, an Estonian couple celebrates a belated midsummer party until late at night. First they talk for hours (quite loudly), then they play loud humta music and finally they get very intensively involved with each other, allowing all the other campers to participate – at least acoustically. Even though they might not want to.
In the meantime, we have familiarised ourselves with the ferry's booking system: 70% of the seats can be booked online, the remaining 30% only on site at the ferry terminal. This way, spontaneous travellers should also have the opportunity to cross by ferry. We drive to the ferry (which is fully booked online), buy a ticket at the ticket machine and cross over to Hiiumaa. No problem, if you know how.
Our first destination on Hiiumaa is Sääre Tirp, a narrow headland on the Kassari peninsula in the south of Hiiumaa. Read more about Sääre Tirp here…

Our camper has been begging for an oil change for a few hundred kilometres now. In Kärdla, the main town of Hiiumaa, after asking around for a while, we find a garage that not only changes our oil immediately, but also enters it in our maintenance booklet in a highly professional and digital way. We are allowed to seek shelter from the approaching thunderstorm in the office, where we are joined by a top-restored 50s BMW. The pride and joy of the workshop manager. But it is also very impressive. Afterwards we stroll through the centre of Kärdla. There is a supermarket, a handicrafts shop, a few nice cafés and a tiny shop for local products, which closes at 17:00 – and therefore doesn't let us in at 16:50. In a sports shop just outside the centre we buy replacements for my Adiletten: Nike bathing shoes, which are far too tight and apparently don't widen either. When I walk, they always slide off my feet, so I have to stop every few metres and put them back on. They also hurt. For 40 €! A few days later, I grab some imitation Croqs for €5 off the bargain counter in a Finnish supermarket. Much better.
A few kilometres west of Kärdla we find a campsite: Randmäe Puhketalu. Declared on Google as a leisure centre, it is in fact a disc golf course (more on that later), a kind of youth camp and a fairly large campsite with pitches in the forest, in the park and on a meadow directly on the Baltic Sea. For the first night, we look for a place in the shade of a sparse pine grove. It is quite nice, but there are quite a few mosquitoes. We stay four nights and change campsites twice during that time. First to the edge of a birch grove and finally to the large meadow on the beach. The site is relatively empty, we are on our own. The first day we stay at the campsite and take a holiday. The Baltic Sea is deep enough and we have a sandy beach, so we can swim. After the first change of site, we are a bit more in the wind – less annoying mosquitoes. A relaxed and comfortable rest day, which does us good. It is warm, around 30°C, we mostly stay in the shade and are grateful for every breath of wind.
The next day we cycle to Kärdla. About 12 km easy. A little exercise. The route is okay, there is a cycle path next to the road. However, a bike tour in the Baltic States does not seem very desirable to us: almost all roads go through the forest, often seemingly endlessly straight ahead. Nothing but trees to the right and left. But we are not cyclists.
Kärdla is nice. We have a bite to eat in a café, stroll around the market, buy something else in the supermarket and have a look at the small local museum with a nice exhibition about childhood in Kärdla over the last hundred years. From peasant children who had to work hard all day at the age of 5, to Soviet education, to today's children growing up in one of the most digitalised countries in the world. We spend the rest of the day at the campsite doing nothing – if that's possible at the campsite: There's always something to do there…
The following day we set our sights on the nearby Tahkuna lighthouse. Just under 10 km by bike through the forest. At the lighthouse is a minimalist café where we buy tickets for the climb to the lighthouse and drink locally produced soda. Maine is with juniper. Interesting, but not really my cup of tea. After 39 metres of ascent, we enjoy a wonderful distant view and discover a lonely dream beach behind a copse, where we take a swim afterwards. The water is really deep here, we can swim and cool off. The thunderstorm forecast for the afternoon passes and we watch a few youngsters playing disc golf at the campsite. They throw Frisbee discs over a course of maybe 100 metres into baskets hung with chains. Apparently it's the hot shit in Estonia and Finland – in the sports shops there are whole walls full of discs for the different distances. I don't know if I just haven't noticed that yet or if it just hasn't caught on in Germany. It probably just takes up too much space, after all, they play 18 baskets/lanes/holes.
Oh yes, the campsite is located in the north of Hiiuma, facing northwest. This means stunning sunsets every evening.