In the meantime we have been on the road for almost two weeks and arrived in Estonia. We have been on the road in Latvia for a good week and it feels like a month. After the rainy day, we stay another day at Rugumi campsite. We need to arrive a bit more and catch our breath. Take another long walk on the beach without getting wet. The place is fantastic – we don't yet suspect how wistfully we will soon think back to it.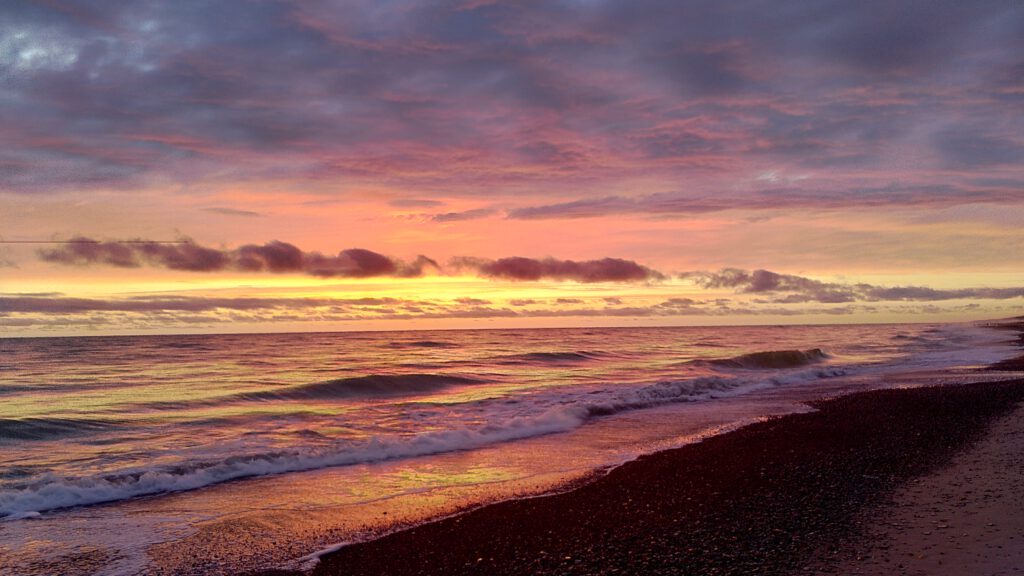 We continue on Tuesday. We think long and hard about how we should approach the next stages: First to the north, up the supposedly beautiful coast to Cape Kolka, or first to the south and into Lithuania and there into the interior – culture in Kaunas and Vilnius? Since Liepaja is in the south and so close and we want to see it anyway, we decide to take the southern route first, for Lithuania, cities and culture. So first to Liepaja. When we arrived on Saturday evening, we only saw a few old Russian prefabricated buildings and a very golden shimmering orthodox church. We park somewhere in the city centre and just start walking – by chance we parked just around the corner from the Petermarket. A beautiful old market hall selling Latvian specialities, fruit and vegetables, meat and cheese. Everything looks quite rustic and substantial. We buy bread and some pastries, fruit and vegetables, matie fillets and strawberries. Strawberries are a big hit in Latvia – you don't just buy strawberries from Spain or locally – you buy by the strawberry variety and only locally. Great strawberries and cheap. Then we go on a sightseeing tour. There are great old wooden houses and lots of open space – some beautiful parks, some wasteland. And of course the endless sandy beach Liepaja is famous for. Liepaja has 80,000 inhabitants and is almost as big as Fürth. At lunchtime, we spend a long time looking for something to eat. Somehow we don't find a proper town centre with an old town, and unfortunately we don't find the original Latvian restaurant that offers a light and yet typical local lunch either. Perhaps this is also due to the fact that Latvian cuisine is not necessarily light. The local speciality is supposedly potato dumplings the size of a zeppelin, stuffed with minced meat and onions in bacon sauce. In the end, we are quite happy when we get some delicious fish and chips in a bar on the beach with a view of the Baltic Sea. All in all, Liepaja makes a somewhat exotic impression on us. Like a Russian city from the 1970s that has only been modernised in places.
We continue south. We are looking for a campsite. We find one near Bernati: Jūrmaļjēkuļi kempings. A very simple place with a rustic but very friendly landlord. When we arrive, a hoopoe is just circling around on the huge camping meadow. We are the only guests and find a nice spot on the edge in the shade of the neighbouring trees. Later, a young couple from Germany arrives, but they keep a discreet distance from us. The beach is about 200 metres away through the forest, beautiful and completely deserted.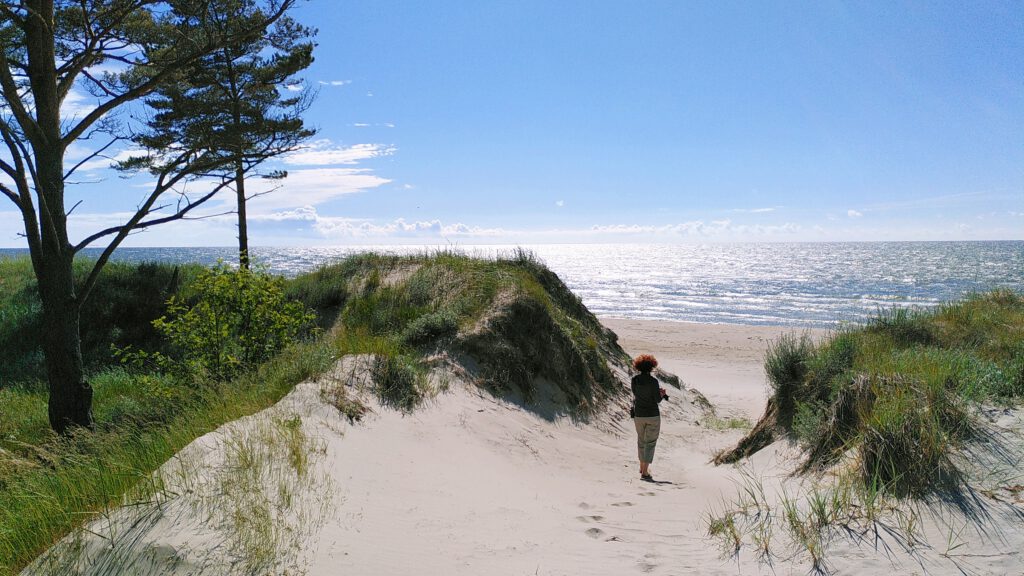 The next day we want to visit the Pape Nature Park. First we stop in the small village of Rucava, where we visit the local museum: old radios from Soviet times, old black and white photos, all in an old mill, which is very nicely decorated. The place still offers a gigantic crossroads without any traffic, a small shop, a decaying factory and some beautiful wooden houses. We drive a little further into the park to a bird watching tower. The last part of the way we have to walk through the forest – and encounter Latvian mosquitoes for the first time. Interesting little animals that like to appear in large numbers in warm weather. The tower is rather unproductive – perhaps it will be more interesting when the migratory birds come here in spring and autumn, at the moment it's pretty dead here bird-wise. We eat freshly fried frozen pelmini and potato pancakes in a café beautifully situated on a small river and then do some quick shopping in the shop in Rucava. And we rethink the rest of the route. Putin is threatening Lithuania with retaliatory measures and the weather forecast is threatening 30°C for Kaunas and Vilnius. We change our plans and decide to explore Lithuania next time and instead drive up the coast towards Cape Kolka now. Neither of us really fancies the city and would rather go to the sea.
We drive north, past Liepaja and Ziemupe, where our first campsite was, to Labrags. There we park our camper above the cliffs at the Zaki campsite. A beautiful, well-maintained site with a great view. But for us, there were far too many campers. The place is really buzzing – German caravans, Latvians with tents or in rented log cabins, who like to play loud humtata music. And of course the beach is no longer as lonely as we are used to. The next morning we set off early.